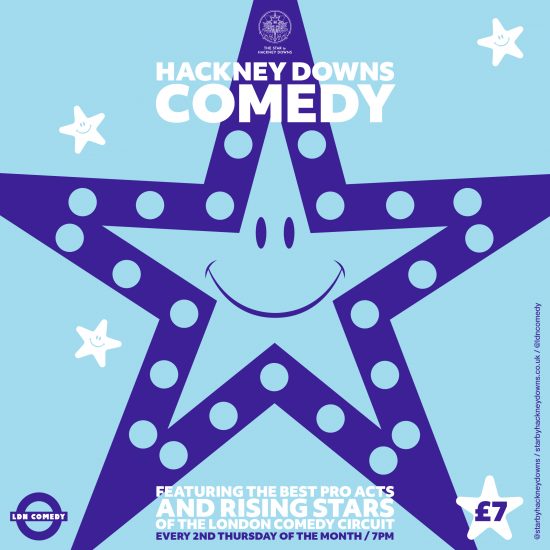 Thu 11th May
7:00 pm - 11:00 pm
HEADLINER
Jeff Innocent
British Comedian of the Year alumni Jeff Innocent has over 20 years of experience at the top of the game in London's club circuit. He's clever, provocative and side-splittingly funny. 
"Jeff Innocent delivers a masterclass in stand up comedy every time he performs."
The Times on SundayHatty Preston
Hatty is a London-born, Chicago-built comedian. Her sardonic wit has made her a regular at comedy clubs across the city. Across the pond she has opened for US heavyweights such as Theo Von.
Tadiwa Mahlunge 
As seen on BBC 1, BBC 2, Dave, Comedy Central, UTV and Comic Relief. Tadiwa has established himself as one of comedy's hottest prospects.
"Fearless comedian on the rise."
Daniel Kaluuya

Dominic LTR
Dom LTR is a London based comedian casually making his way to the top. Shortlisted for the BBC New Comedian of the Year Award 2022. Dom's dry, deadpan delivery and punchline heavy style has earned him regular spots at the top clubs in the country.

Matt Rouse
With his cynical delivery and clever routines Matt has proven that he has the comedy craftsmanship to consistently leave comedy audiences in London, LA & Beijing wanting more.
"Solid attitude which he skilfully exploits"
ChortleCallum Jones
Whether he's delivering hilariously relatable material in comedy clubs across the country or appearing in  viral TikTok videos, it's impossible to not be won over by the cheeky charm of this up and coming Welsh comedian.
With resident MC
Sam Picone
Sharp observations delivered with an effortlessly dry wit.  
"A natural on stage" 
Mo Gilligan